Truly Motivated's 5k Run for Recovery Wrap-Up

The crowd started showing up early Saturday morning... picking up registration packets and fixing their runner's number to their shirts. Starbucks had coffee brewed and there was a buzz in the air. Many had joined us for our First Annual Run and knew what was in store, others were there for their first time and enjoying the excitement of something new and something fun. There were about 100 people present when we kicked it all off. Carmin got us started with some history of Truly Motivated and spent time thanking our sponsors for being such a big part of what we do, both by providing our organization with necessary services and by participating in our events. We took a moment to recognize Walt's Tire Factory, Tad Stillwell's Farmers Insurance Agency, Littlefield & Co. PLLC, Cascades Camp & Conference Center, Twinstar Credit Union, and of course Starbucks (can't forget Starbucks!).

Shortly after Carmin introduced Penny Hansen-Walton to the crowd. Penny shared her special story with us about how Joe, Carmin & Truly Motivated saved her life, but whats more, she shared how her story was in turn impacting the lives of others. I looked across the crowd as she told the of her near death and miraculous turn around I saw quite a few wiping tears from their eyes. Penny came to show the local community that recovery can & does happen. Lives are restored and relationships are renewed. Penny had 3 members of her family joining her in the 5K to show their support & commitment. As Penny closed us out the Runners gathered at the start line and with a good ol' "On your mark, get set, GO!" they were off.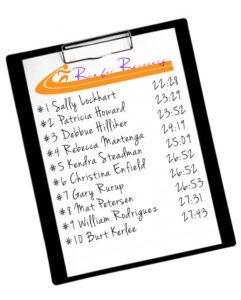 Just a cool 22 minutes and 28 seconds later our winner Sally Lockhart sailed across the finish line. See the list below for the top ten. (The full list of this years results will be posted at next years Run too!) The first ten runners received a gift from Starbucks for their outstanding performance and dozens stuck around to help us cheer the rest of the runners on as they came in to the home stretch.
All in all it was a fantastic event, and with your help we were able to raise $3716! A great portion of this money will go directly to our Scholarship Fund. Our Scholarship Fund allows those coming in from active addiction with very few resources the opportunity to find refuge from the storms of active addiction in our homes without having to worry about how to pay. For many, it is their first experience with grace and it can truly change the course of their recovery. What a gift!
So Thank You again Runners, Sponsors & Volunteers - It was another successful Run for Recovery - We Look Forward to Seeing You Next Year!