This time last year we saw Taylor Gubser celebrate her late Uncle Zach by doing a fundraiser on his birthday and donating the earnings to Truly Motivated. Join us in celebrating Zach this year by taking a moment to read this....
' Old pirates, yes, they rob I; sold I to the merchant ships, minutes after they took I from the bottomless pit. But my hand was made strong, strong by the hand of the almighty; we forward in this generation triumphantly…'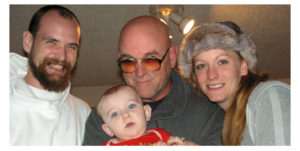 Song lyrics I would sing in harmony with a former resident here as he strummed his trusty guitar. Zack had a smile that would light up a room, and I would get to experience that smile in a couple of different settings. The first was after we would belt out a tune by the great Bob Marley.  He played rhythm and sometimes let me have the lyrics solo in my greatest attempt to sound reggae.  The other was on the basketball court outside of House One after a good game of one on one.  The smile was infectious and brought joy to my heart.  Zack stayed for exactly 30 days.  He left me with the image of that smile burned into mind and those lyrics etched on my heart. A short time later drugs silenced the music he so loved to play; in an overdose Zack died at the age of 30.
Kids; foolish enough to think they can make a difference!  Oh wait, what did Jesus say about using the foolish to stump the wise?  I know of two kids that are just so foolish as to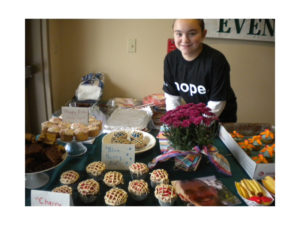 think they could make one though.  Bethany Enfield, with her Facebook challenge called to those of us caught up in the cyber world to tear away long enough to make a difference in her Summer of Help project.  For a couple of weeks ten-year old Taylor Gubser prepared to make a difference of her own.  Every bit of the footwork done on her own accord, from writing the proposal to church to the time spent baking the items that she was going to sell.  Printed on the front of her shirt was the word HOPE as she sold some of the best looking, most creative cupcakes I have seen rivaled only on the cooking channel.  When I walked up to the table to purchase my goods,  a brilliant smile appeared and at that moment I could hear the guitar and in my head and sung Old pirates, yes, they rob I…  My question to Taylor: "Why?"  Her answer: "Because I love baking and I wanted to help the organization that tried to help my Uncle Zack."  Her goal was to raise enough money to house someone for one month $525.00.  In the end, she raised well over $900.  The morning of the sale Taylor came into the kitchen, grinning from ear to ear.  Waiting for her mother's full attention, she said, "Mom I'm really making a difference, huh?"  Taylor Gubser - Yes, you have, and you my sister, are Truly Motivated.